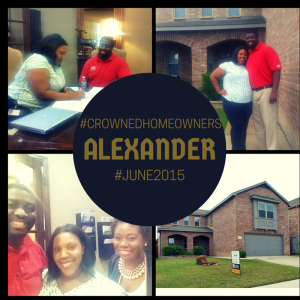 In the latest addition to the "Crowned" series, we meet The Alexanders. Now The Alexanders are personal friends of mine and newlyweds. Candisse is actually my sorority sister from LSU. It's funny how when I first started my career in real estate we would have talks about her buying a home. Her and Evan were seriously dating but marriage wasn't quite near, at least that's what Candisse thought.
I remember having her tag along to some of my previews or sending her random homes. She'd be like with a house like that I'd need a ring to make that possible. Well, that ring came a lot quicker than she thought. Candisse and Evan wed in February 2015. Of course weddings means homes, babies (I can't say that too loud right now), and more. So as a friend I would suggest when would we go search for their new home as husband and wife. Their answer was always after the honeymoon we are ready. They definitely were. This is one of the only times where we did 2 days of showings. This was the first home they considered making an offer on and their offer was accepted.
As a friend I thought this home was perfect too. It was the perfect size for them and great for entertaining their lovely friends (well maybe just my own personal implication). I'm happy that they trusted me to help them with this transaction. It means a lot to have your friends or family to support your business. After the real estate purchase, I stay in touch with clients and they become friends to me. So imagine how grand of a friendship this has evolved to? I love it and cannot wait to be around for the memories made in this home.
Congratulations Evan and Candisse!