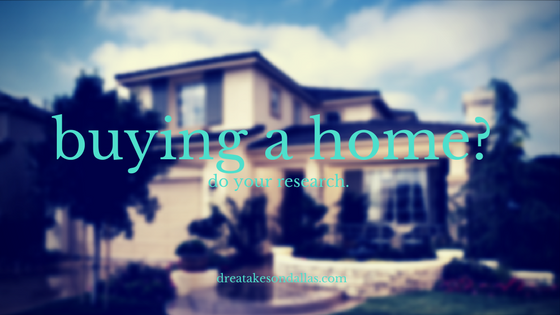 One thing that I do with all new and potential clients is to schedule a consultation. The consultation helps each party set expectations but most importantly, it helps to properly educate a buyer or seller.
I never want to sell my clients just anything or any service. I want to be the one who helps you make the best educated decision in life's biggest financial transaction. I value the relationship I have with my clients so I treat everyone as if they are a dear friend that I want the best for.
However, with so many things available at our fingertips, it is hard to not have knowledge on some things.
The market in Ohio may be a totally different market in Texas. The market in Dallas is a totally different market than Houston. You cannot take what person A in New Mexico said compared to where you are buying in let's say Georgia. Markets differ. One market may have an abundance of foreclosures and another one not so much.
For consultations, I like to break down all myths and help a client know what's happening in Dallas/Fort Worth. An example would be the southern suburbs and the northern suburbs of Dallas. The same home in Lancaster may cost $100K less than the same home in Little Elm. Dallas has one of the hottest real estate markets in the country and foreclosures are rare at the moment. What may have been available in 2009 may not be available in 2017. I get it. I miss the cheap housing of DFW too. Imagine the days where you can get a home in The Colony, Little Elm, or even McKinney for $150K? I was helping people find them in 2014. That's the last time I've seen homes in those prices in the northern suburbs.
So you're interested in buying a home and want to know where to start?  I like some tips on the best way to start researching your market below. 

Here's the best way to start your research in the market.
A. Find areas that you like (Do 3-5 areas).
B. Look up homes in those areas. What do they cost? What do you like about them? We all have areas we desire but in today's time that area may not fit our budgets. If you barely find a home available under $200K or even under $150K in these areas, the market is higher. If that may not be your budget, find other areas that fit your price range.
C. Know your OWN coin. Look at your gross or net income for the month. Subtract the expenses you have from bills (excluding rent). What is left over? That may be the amount you have realistically to pay for a home. Rule of thumb is to spend no more than 30% on mortgage/rent. Lenders generally include this as well. This is called debt to income ratio. They include housing expenses (mortgage) and debt expenses to help you know what you can afford. This also may be the time to find what you can eliminate to afford a home that you want.
D. Get Pre-Approved. It's one thing to dream of the lovely $450K home but it is more responsible on knowing if you can afford it or not.
E. After getting pre-approved, go back to A and see if you are able to realistically do A. This becomes a one-on-one conversation with yourself to realize what you can and cannot do. Look at other areas that have more availability in your price range. Venture out to visit the areas and see if it is something that you can do. People are generally surprised what other areas offer.
F. Get a Realtor. Online research can only go so far. Find a knowledgeable Realtor that you can connect with.
The key to homeownership is to start. Your first home is not your forever home. YOUR FIRST HOME IS NOT YOUR FOREVER HOME. It is your first home. You second home may be that dream home you've always wanted. It may be your third or fourth. If you ever want to sit down and have a discussion with me about the DFW housing market, contact me today via phone or email at 972-183-9788 or atfowler@NewAvenueRealty.com. Book an Appointment here to schedule a consultation.